Web Site: http://www.mammovies.com
Posts by admin:
April 12th, 2012


Last week week, sixteen of us participated in a special gathering in Madurai over the weekend. Some of the Moved By Love Ahmedabad gang and changemakers and artists from around India joined our friends at Aravind Eye Hospital for the "Moved By Madurai" retreat. A brief recap of the memorable 3-days is here. Prachi shares beautifully about feelings conjured as we walked the halls of Aravind Eye Hospital:

We walked into the hospital on a typical Friday.  Our tour guide, Deepa, was smiling as we peeked into the corridors of Aravind Eye Hospital.  Elderly men and women were waiting patiently in lines.  I smiled when I saw a small meditation room to my right.  Portraits of the Mother and Sri Aurobindo were glancing down upon us.  In fact, there entire presence could be felt in the hospital.  Guided by grace, the hospital exuded an ashram-like atmosphere.  Doctors were calm, systems were working smoothly, and patients left much happier than when they arrived.  Unlike the normal hospital environments I have experienced (and been alarmed due to their mechanistic treatment of patients), Aravind seemed to be inviting us in… There's a profound humility that comes across meeting members of the Aravind family.  Mild demeanor, a willingness to serve in whatever capacity, and a sense of calm pervaded the presence of the people we met.  I felt humbled to be in the presence of divinity in action.

The focus of the retreat was on creating deep connections through personal presentations. Each participant gave a 7-minute "spirited talk" in which they shared their personal journeys. Some prepared powerpoints, some ad-libbed, everyone shared from the heart. Shagun shared about the richness of sharing personal journeys:

Journeys are fascinating. Lives and thoughts appear like intricately woven webs. They mystery that so beautifully intertwines our destinies evokes wonder and settles into gratitude.  I am filled with a sense of forward progression. Being here feels right. I feel blessed and inspired by the wonderful people around me. Everyone brings a unique and precious facet to the group that answers some questions, opens up vistas of previously unexplored ideas, shines light into crevices of the heart.  One sees courage shining through, and faith and humility, humour and love.

Three particular themes emerged that linked many of the sharings:

1. Allowing for spaces where service and compassion can fill
2. Imparting culture and values to others around us
3. Being compassionate in the face of exploitation

Siddharth, who has been reflecting a lot on 'spaces' recently shared this.

'Organizations' are extremely efficient in creating specific impact based on goals. But when an organization decides to also nurture, and love all those who are connected with it, it is transformed into an environment, or a space. And its impact can multiply simply because it decides to share all it has with all those who pass through, albeit momentarily.
In a well composed piece of music, the pauses when rightly placed and constructed can lead to powerful crescendos. In the same way a loving space can plant numerous seeds, which at the right time can lead to the most fragrant blooming flowers. Because the impact of spaces is often invisible, we tend to neglect their importance. But lets not forget, our life began through 9 months in a space, our earliest memories were in a space called a home and our communities that support us also are spaces. Our individual presence could also be a 'mobile space' to those around us.


I come away from Madurai, with an intention of creating more spaces through the simple process of inner engineering

We closed the retreat with a circle of sharing on each of our intentions as we left the space. In the spirit of April Fool's Day, we thought of evoking the sharings through a different framing: What *don't* you know as you take the next step of your service journey? Some interesting and heartfelt responses followed, Ragu noted each of them:
It is easier to stick to our values and practices when we are in a service mode.
I don't know how to keep the same level of commitment when something personal is at stake and am being exploited.
I don't know how I should treat and deal with money.
I am often hard on myself. I don't know how to maintain a fine balance in holding a space.
What is the difference between security and sustainability? I am scared of money. I don't know how much to let go.
How do I see all as one. I'd like to treat everyone the same but don't know how.
Not knowing the next moment, yet I have to plan. I don't know how.
I don't know what is the one thing that I want to commit my life to.
I don't know if 100% clarity is possible in being in relationship with others. I feel I need this to fully help others.
What does it mean to be a good leader? I can lead myself well, but I don't know if that is enough to lead others too.
I don't know how an organization can create a "circle of love" that nurtures the values of the organization
as it brings in a new generation of people who cannot directly feel the original cause and vision.
I don't know how to consistently relate to everyone I engage with in the organization with the same level of care.
I don't know how to balance all my interests and especially be able to serve my family with
the same passion as I serve others (as I tend to take my family for granted).
I don't know how to be spontaneous in an institution.
My life is chaotic. I don't know how to find an order in it.
I have an abundance of opportunities in my life. I don't know what I should commit to or whether to wait for divine inspiration.
I don't know how to pass on the gifts given to me by my elders to my peers and my next generation.
I don't know how to deal with exploitation with compassion so that no one is a loser.
A deep bow of gratitude to all of the Moved By Madurai participants for sharing their time and presence. A special thanks to our of lovely hosts Deepa, Divhya, Vara Aunty, Bala Uncle, and the rest of the Aravind team.
April 7th, 2012
'I like what you are wearing in your neck ' said my barber today while I was having a haircut. I was wearing Rudraksh bead, a seed associated with God Shiva and some of them are very rare to find like the one I was wearing. 'How much does it cost?' he asked further, I replied I don't know as I was a gift and this particular one is little difficult to get the original piece. 'can you get one for me' , I said 'ok' to simply avoid the conversation. But then he said 'promise' and I found myself saying promise softly without actually meaning it but at the same time regretting saying it as now I felt I had given my word and I was not quite sure how to get this particular bead and it is little difficult to find, in short it was just a hassle. He smiled and continued to cut my hair. In next 10 minutes my mind started racing and I pondered why am I wearing this bead, is it due to superstition that it will make my life better and I will get what I want or does it makes me spiritual ? Am I attached to it? What if I take it out? Why is it so important for this barber? Does he really needs it or is he superstitious like me. All sort of thoughts came but none could convince me authentically the essential need for it for myself. I no doubt loved it and had been wearing it for more than 2 years, I also felt it was lucky for me and it bought me good luck so thinking about that positive feeling I took it out from my neck and gave it in his hands and said 'may this bring you good luck too'. A small gesture of love opened my heart in a big way and I walked back home smiling and feeling lighter.
April 7th, 2012

Why do we travel ?, I thought. Some do for work and some do for joy but there is another small group who travel because they are meant to travel. When there is a calling you go. You listen to your restless heart and you go.
This year has been truly a year of journey for me. Started with a trip to Gir forest on a new year eve with a group of people doing small acts of service. Followed by a journey to search for rural innovators in north east india with prof Anil gupta. Explored Assam, Mizoram, Kolkata and Bihar. Immediately after went on a spiritual walking pilgrimage in the banks of mother river Narmada, with a small group of friends and my one year old daughter Reva. Before we could savor the inspiration of the last journey, the beautiful city of Madurai called us and again we gathered here to do a small retreat, saw the incredible work of Aravind eye hospital and then spent time in a farm with a family's who left their city life to do organic farming near Coimbatore. Just realized all this happened in last three months, there are so many other journeys ahead. My heart told me again "when there is a calling you go".
August 20th, 2011
To spread the message of love, peace and compassion, sixteen children from some of the largest slums of Ahmedabad, Gujarat were selected. Through a nine month audition process they are being trained and developed, by two mentors from Manav Sadhna and teachers from Darpana Academy, to perform a 90-minute dance-drama production sharing Gandhiji's message of 'Oneness'. After one year of training and development, the children will tour the show across India, the US, and the UK. More about Ekatva Project
For regular updates please see Ekatva Facebook Page
August 5th, 2011
One of our Lokmitra Raghu has been running a tiffin service for the poorest of the poor. Recently Rafa, a manav sadhna volunteer from Spain, went to distribute food with Raghu and shared the following experience:
"After three hours of roaming in the Ahmedabad slums with Raghu, distributing food from house to house, I started to feel tired. What kept me going was the thought that Raghu does this every single day without his disability limiting his compassion. The last house we visited was of an old grandmother who was living alone. She was clearly in lot of pain and kept complaining that she had no desire to live and wished god would take her. She was constantly crying and Raghu listened to her very patiently trying to give her hope. When she didn't seem to stop crying, Raghu looks at me and requested me to take a picture of her. First it felt quite inappropriate and uncomfortable taking a picture in this situation but when Raghu insisted I took out my camera and asked the grandmother to smile for god and next moment as if she really saw the god she gave one of the most beautiful smile I have ever seen. Few days later I learned that she had passed away and with no one else left in her family, Raghu did her cremation. My heart is still filled withe loving memory of her smile and in awe of Raghu who is doing this work which is moved by love"
Recently somebody shared in Moved by Love space that Raghu had utilized all the donated money and last month he had to use his own salary to get the food, but he never asked for any help. Few friends decided to raise some money for him but then that seemed easy way out and not true to spirit of 'Moved by love' as one of the value we follow here is 'no fundraising' and to serve with what we have. So we all decided to fast for one day in a week and money saved from that will be contributed towards the tiffin service. This really felt like coming a full circle and staying hungry never felt so good.
July 29th, 2011
Guru has been laying on his back for his entire life, 11 years now. From Day 1 (ie. six months back), I knew that laying on the floor all day was no good physically/psychologically and that something had to be worked out. Today was that day. After a long wait, Blind People Association hospital finished work on Guru's custom chair. Bikhabhai did the honor of delivering of it, as the family could not fit the chair into a rickshaw.
Being able to sit upright all day will now improve his labored breathing (imagine the weight of gravity on your chest like that for such a period of time) but it's also a position of strength, which will have psychological benefits. There's also a table that attaches to the chair so you can play with toys with him and such. And look at the photo of his first day in the chair! Says it all.
July 23rd, 2011
Sheetal Sanghvi Shares:
Shaheen Mistri, founder of Akanksha and Teach for India shares her inspiring life story in a first ever SpiriTED Talk at The Uraban Ashram, Pune, India. It turned out to be an evening full of spirit, energy and inspiration as Shaheen walked in at the Urban Ashram to interact with a group of 30 people who had gathered to hear her life journey and understandwhat it really means to serve and make a difference. While words fail to capture the experience, here is anattempt to summarize those precious 60 minutes of a heart-to-heart conversation with Shaheen.
"The Power of an Instinct":
Shaheen lived in many parts of the world and had extremely privileged and sheltered childhood. Povertyand Inequity were not part of her world. She was, however, always very captivated by children. As earlyas from the age of 12 she regularly volunteered to work with children. It was always children who werein some special need—visually or hearing impaired children, autistic children or orphan children. Her happiest memories from her childhood come from those times she spent while working with children. Shaheen studied all across the world in different schools—American, British and even a French school butnever in an Indian school. During summer breaks, she would visit her grandparents, who lived in Mumbai.A week or two in Mumbai every year, and she would be happy to return back to her own comfortable lifeabroad. It was one such short holiday trip to Mumbai, when she was 18 that would change the course ofher life forever.
A chance encounter with some street children at a traffic light in Mumbai and a strong inner instinct to stayback in India led Shaheen to call up her father in America and convey her decision. Completely taken aback, he challenged her to get admitted into one of the top 3 colleges in Mumbai. It was September—threemonths after all the admissions were closed. Determined to seek an admission, Shaheen sneaked into principal's office at St. Xavier's College and literally said these very words: "Father, my life is in your hands."And it worked!
"I am an Indian. I have never known what it really means to be an Indian, to live in India, to do something in India. I want to stay. It was a very flitting but a very deep instinct that Ihad. Luckily, most the instincts we have, they happen and they go and we move on with ourlife. But that particular one, I acted on."
One of the first things Shaheen did after getting into St. Xavier's was to try and understand the city in adifferent way. She followed a news reporter for a few months wherever he went. It offered her a glimpseinto the life on the 'other side'—jails, police stations, courts. It also took her to one of the large urbanslums in Mumbai. She was struck by the potential, the resourcefulness, the courage, the spirit of life and happiness despite all the odds.
"I didn't understand how people could have so little and yet be so happy." There, she met a girl her own age called Sandhya. She sat with her just out of curiosity trying to understandher life. While Shaheen knew no Indian language, no one in the slum community knew any English. As shesat there, some kids surrounded her. She tried to teach them a few words of English. Notwithstandingthe fact that she had no clue of what it meant to be a teacher, Shaheen enjoyed herself with those kids.She decided to regularly visit those children and teach them new things. Thus began her first classroom in the slum community. It eventually led her to consider getting those kids to a school and provide themwith a wider exposure and a happy, safe learning space—where kids can just be kids, be naughty and enjoythemselves and maybe learn something along the way.
She approached nineteen different schools asking them to provide her with a space for teaching less privileged children—only to be turned down for no good reason. That was an important early lesson in her journey—"The most difficult thing in the world is to change mindsets" she admits. It was an appeal from the heart and once again her famous line—"Father, my life is in your hands" which came to her rescue. The 20th school she approached finally agreed to her request. That was the birth of first ever Akanksha Center in Mumbai. One centre after another, Akanksha has grown over the past two decades in Mumbai and Pune serving to over 4000 children in slum communities. In 2009, Shaheen took the next big step in her journeyby launching a nationwide movement called The Teach for India (TFI). Only three years into the program,today over 400 teachers are serving in municipal and under-resourced classrooms across Delhi, Mumbai and Pune touching over 16,000 children's lives. The TFI model aims at recruiting the best and the brightest young minds to solve the 'puzzle' of education inequity. Shaheen and her team of dedicated 'crazy'youth—as she likes to call them–have been working relentlessly to keep the wheels of the movement turning faster and in the right direction.
Reflecting on her journey of working with children from less privileged backgrounds, Shaheen drawssome important life lessons:
"It really is the opportunity that sets us apart. There is no difference between me and that child in the slum except the difference of opportunity."
"It teaches you the greatest humility. It taught me that there really is very little that you can change. But it also taught me at the same time that what I really can change is myself and there is a lot of power in doing that. And there is a ripple effect."
"Everything is about human connection, if you know your kids (students), if you understand your kids, then other things can happen."
"If we think of how really big problems have got solved historically, there have been leaders who have been committed, who have been bright, who have been passionate, who have worked relentlessly to solve those problems."
The power of Giving: Shaheen shared the story of one of her favorite Akanksha kids—Latif and how he sacrificed his own life for the wellbeing of his grandfather.
The power of Belief: "Just say yes no matter what! If someone throws a hundred problems at you, you can find a hundred and one solutions. When everyone else has given up on a child including the child itself,the power that a teacher can have with his unconditional love and belief in that child can be extremely transformative. It is often easy to get someone to do something much more difficult than somethingincrementally more difficult."
The power of the Little Things: "I don't believe anymore that there are big miracle solutions. I think that there are enough of the little things that are going to cause the big miracle solution. In a world that is so difficult to live in, where each one of us has so many challenges just being nice makes such a difference. DoI notice the things that are special in the people that are closest to me, the people around me?"
The Power of Doing things Yourself and talking less about them: The analogy of the Mirror and the Glass."If you have a problem, you always have a choice: you can pick up the mirror and reflect and believe that the solution is within you. If you pick up the magnifying glass, you believe that the problem is something external and it becomes bigger."
Every word she spoke came from a deep inner conviction and a life-time of dedicated service. Shaheen closed the session by urging the gathering for help and support in whichever way they can. As an immediate expression of our sincere prayer, we closed the gathering by holding hands in a circle and chanting three times: "Loka Samasthaa Sukhino Bhavantu"—"May all beings be happy." The gatheringwas truly blessed by Shaheen's presence, who made the time to come down to the Ashram and share her incredible life story–despite having just flown in from the US and not having slept for the previous twodays. We wish Shaheen and the movement a great success!
July 22nd, 2011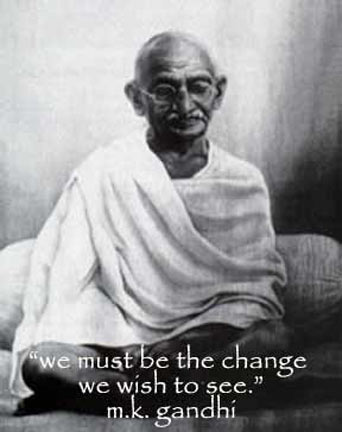 There is somebody in my life who I've been having a slightly strained relationship with as of late, not really sure why. So this morning, impulsively I decided to gift this postcard to him because I know he has much love for Gandhi.
Like magic, turned everything around. Whole energy shifted in a heartbeat. He was genuinely touched and warmed up by the gift.
Didn't even exchange words, just "a gift of love"
July 21st, 2011
Rajshree shares another beautiful moment with Uday Bhai, our Ahmedabad Nu Rickshawala. Also here's another story about Akshay Patra from her.
A new day has come- Ahmedabad- 18th april 2011.
This is the first day of my new beginning. No idea what is in store for me. First time I have no clue regarding what to do next. No plans, no ideas, no time limits…..nothing. it sounds scary for a person who has worked all her life. Honestly iam excited. Excited to start a new future absolutely fresh and clean and pure. Iam ready to explore myself further, ready to explore the world, ready to explore the future……
• Uday bhai- the minute I get off the plane, I got in touch with uday bhai. He has come to receive me in his phenomenal innovative service rickshaw. Lets talk about uday bhai first. He was weaing a Gandhi topi, khadi kurta, and a jhola on his shoulders. The minute he spotted me, he welcomed me with a badge which had broom as its symbol. He told me rajshree ben…..this is in the memory of ishwar kaka. And then starts the beautiful journey in his service rickshaw. For the first 15 mins of my rickshaw ride, I did not look out of the rickshaw. Well why? Take a guess, uday bhai's rickshaw is a service concept by itself. Amdavad no rickshawwalo is the name he has given to himself. Every part of the exterior has some strong message like….life is a journey, not a destination.
So now, lets look inside the rickshaw. Behind the seat are two boxes, one is called 'seva' and the other is called 'prem'. Lovely snacks and chocolates are stored in 'seva'. Uday bhai gives this to all his customers in case they get hungry. 'prem' has bottles of mineral water which quenches the thirst of tired visitors. Ofcourse, this is all with the idea of 'seva'. When u sit in the rickshaw, your eyes first see the panel ahead. Hey man…..there is a library here. This library has all the possible inspirational books like…..100 ways to be the change. It also has gujrat guide and Ahmedabad guide. You can read them and learn about amdavad while you are travelling in our little 'service rickshaw. At the signal, when you are just slightly uncomfortable due to heat, uday bhai switches on the fans overhead. Magic. Hahaha….. What else? He also has a light for his customers who want to read while they are travelling at night. Well, if this is not enough, he has a music system through which he plays the bhajans, Bollywood songs etc. on his left side, he has a small recycled bottle of akshay patra . He says the first earnings of the day are put in that. When this bottle gets full, he empties it and buys something for the poor. Imagine! he considers himself to be a very a privileged person on whom god has been very kind. Wow!
Once I finish looking into everything and just about soaking in everything about this 'service rickshaw' and about our very own amdavad no rickshaw walo, there starts the fantastic stories of uday bhai. He tell me how he gives chocolates to every child who sits in his rickshaw and ofcourse no charges for very old and weak, handicapped or pregnant women. He rambles about how he has become a mubola son to an old poor widow and a brother to her daughter. They call him everytime they want to go anywhere and he never charges them. How there was a young college going boy who had come from delhi. He was so thrilled when he sat in uday bhai's rickshaw that he couldn't stop singing and dancing and hugging uday bhai. I also heard his radio interview where he spoke about his rickshaw and the idea of service. Man, I was floored by this innovative simple social entrepreneur.
Once I reached jayesh bhai's house, I asked uday bhai…..how much do I have to pay? Uday bhai just gave me an envelope saying…… its upto you. pay it forward concept, seva café concept……you pay whatever you want and seal the envelope. I ask him what if someone doesn't pay….he says….thats ok ben, maybe he is unable to give. This much trust, this much faith in god and human kind…..that too from a simple rickshawallah? It was difficult for me to digest this fact. I asked him…..uday bhai….have people insisted to pay by meter only. He replied…yes ben, they have. I explain my concept to them the minute they sit in the rickshaw, if they insist that they want to pay by meter, then I do switch on the meter for them.. In the rickshaw they see the unbelievable interiors and thanx to uday bhai's connection with each and every passenger, by the time they reach their destination, they have had a 'hriday parivartan' and have just paid by the 'seva concept'. Uday bhai further informs that he has never haggled or argued over money. In his words….be chaar rupya man koi ameer ke koi gareeb nathi thatu. This is the power of belief, this is the power of service.
Next two days, everywhere I travelled, I had uday bhai take me around. The last day we had lunch together and he shared a glimpse of his personal life.. He stays with his parents who are old , his wife and 3 boys. He also has his sister whom he brought back from her husband's house because uday bhai himself by chance saw the physical abuse given to his sis. His sister has a son, who is now 23 yrs of age and is working. Uday bhai says…..he is very happy, god has been very kind to him. He feels he is very blessed and lucky. Now all he wants is to continue his act of service, educate his sons and be an example to other rickshawallahs.
For me, uday bhai was symbolic to my new beginning. If you want to pursue something, who you are, what you are, where u r….does not matter. Just follow your passion and then the entire world is in front of you. Never limit yourself, never limit your capability. If you believe in something and you believe it strongly…..than the entire universe will make it happen. Right alchemist? Thank you uday bhai for teaching me the first lesson on my new day and man…..what a powerful lesson it was.
July 14th, 2011
I am a man who belongs to another world than this, one that may seem very strange. For I claim that I am moved by love, that I feel it all the time. I do not deal in opinions, but only in thought, in which there can be give and take.
Thought is not walled in or tied down, it can be shared with people of goodwill; we can take their ideas and offer them ours, and in this way thought grows and spreads. This has always been my experience, and therefore I do no accept any kind of label for myself. It is open to anyone whatever to explain his ideas to me and convince me, and anyone is free to make my ideas his own in the same way.
There is nothing so powerful as love and thought- no institution, no government, no scripture, no weapon. I hold that there, love and thought, are the only sources of power. You should not expect me therefore to have any fixed opinions, only ideas. I am a man who changes every moment. Anyone can make me his slave by putting his ideas vigorously before me and convincing me that they are right. But no one, however hard he tries, can get me to accept his authority without first convincing me of the soundness of his thought.
I have ideas, but no permanently settled views. In fact I am so unreliable that I do not hesitate to express one view today and another tomorrow. I am not the same today as I was yesterday. I think differently every moment and go on changing all the time.
-Vinoba Bhave (From his book 'Moved By Love')